So last week I made a little movie about blogging that really resonated with many of you.  Lovely Alexandra from Good Day Regular People loved something that was said in the movie:
"I'm HUGE in Canada!"
Now, let me explain…
A few months ago I was telling a friend about my blog and blogging and I was totally getting *crickets* from her and then because I have a very odd sense of humor I did say "I'm huge in Canada" to this person.  She did not find my comment funny at all.  (No surprise there.)
In actuality, I do have a lot of readers from Canada, as well as, 3 bloggers from the exact same city in Arkansas.  Yes, I do stalk my Site Stats regularly even though they say I shouldn't.
Anyway, Alexandra suggested that I make up some t-shirts so being the good little girl that I am, I got right on it.  
Check them out, eh!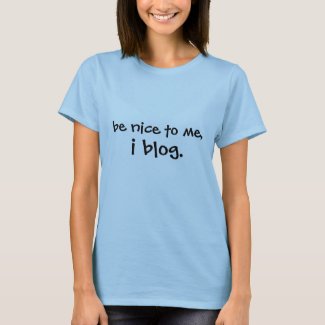 be nice to me, i blog.
by
thegirlnextdoorgrows
Browse more
Blogging T-Shirts
I know you check your site stats too.  Don't lie.  Where are you HUGE in?!